Monday 11th May
New ideas for outdoor learning - click here
Monday 20th April
Ideas for outdoor learning this week - click here
Thursday 2nd April
Good morning Nature lovers! Hope you are still getting outside every day, for at least half an hour (much longer if possible!) whatever the weather!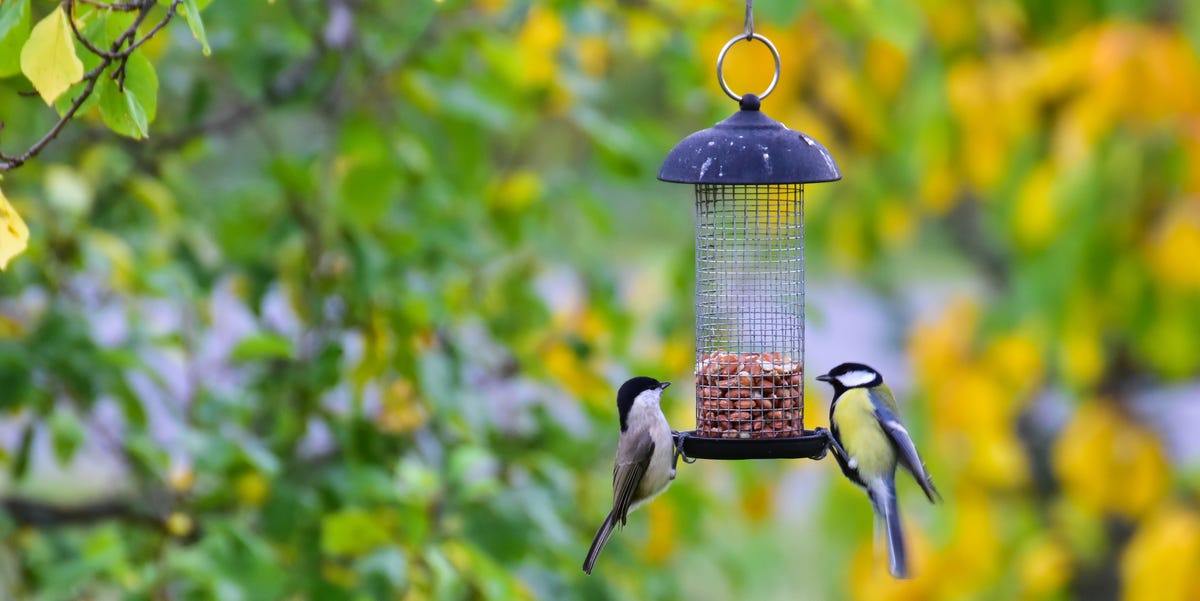 Yesterday, in school, we set up the birdfeeder by the vegetable patch so we can bird watch from the dining room. We had some fat balls and seed in the shed, and chopped up a couple of apples and stale biscuits to add to the feeding tray. There was a squirrel shinning up the silver birch so I guess he might like the feast too!
The RSPB and Wildlife Trust sites are inviting everybody to do garden birdwatches, so if you can, put out some bird food and try to take note of which birds come to your garden. The RSPB, Woodland Trust Nature Detectives and BBC Nature websites are great for learning to identify and name the birds if you are unsure. If you want a bit of maths, make a data collection chart of some kind to collect your observations.
No problem if you cant get bird food, or don't have proper bird feeders – you can make your own, there's loads of ideas and photos online and if you put out a few scraps of bread, biscuits, fruit, stale cheese or breakfast cereal, you will surely get visitors.
Perhaps you can challenge yourself to know the names of at least 5 different birds (see if you can identify their songs/calls too) by the time we meet up again! Think how nature-savvy and knowledgeable we will all be!
Remember to look back on previous ideas and especially train yourself for the quiet, calming moments of Take Five Senses to enjoy the free sounds, sights, textures, scents and tastes (fresh fruit and veg) of nature.
Wednesday 1st April
What a glorious day to make a sundial!
Get outside quick and set up a stick, or long pencil or something similar in a pot in an open space on the patio or stuck in the ground in the middle of the garden.
Notice where the shadow falls and put a stone at the end of the shadow. Where is the sun in relation to your house and garden? Which side is it on? How high in the sky is it? (be
careful not to look directly at the sun though as it could damage your eyes)
Try to go out every hour or two – definitely again at lunch time and later in the afternoon and evening at least) and see where the stick/pencil shadow is. Mark the end of it with another stone each time. Notice what happens!
The sun always rise in the east , sets in the west and is at its highest point at midday, in the south. It never shines from the north!
Now you have made a basic compass too, and you will know which way your bedroom faces, where the sun will shine most at different times of the day. I love watching the weather roll in (from the south west usually) towards my back garden so I know when to get the washing in! You can check the weather forecast too – if they say the wind is coming from the north, wrap up warm!!
Quick! Get out there, it's clouding over! Have fun!
Monday 30th March
Hello again everybody! I hope you all managed to get outside for a bit at the weekend, even though it was chilly and windy and we had to dodge the hail showers! I found a newt in my small pond which was very exciting! I hope there are two, and that I shall see newt tadpoles (called efts) soon! Perhaps you could find out about the life cycle of a smooth or common newt for me? Last week, there was a lot of frogspawn in the school pond and we drew a life cycle of a frog...I wonder what that is like now? We will let you know!
This week, see if you can make a 'home' of some kind in the garden. It could be a bug hotel, hedgehog shelter or a home for the garden fairies – or a den for you if you are allowed to take a chair and old blanket or sheet outside, but ask first!!
Collect twigs, pebbles, old bricks. grass, mud etc (wet the soil and see if it sticks together like cement!) Perhaps you could decorate your home with flowers or leaves? Add a small lid of water at the entrance, and may be something for your occupant to eat?
There are lots of ideas on the Wildlife Trust, RSPB or Woodland Trust websites for ideas.
http://www.woodlandtrust.org.uk/naturedetectives/activities/
Keep busy and wrap up warm! Fresh air and observing nature is proven to be good for us and will give everybody a bit of 'on your own time'- an essential part of being at home for everyone in the family!
Friday 27th March
Don't forgot Take Five and Daily Diary to get you started.
Try Art outside today! If you can, look up the artist Andy Goldsworthy who makes patterns and sculptures out of natural objects like leaves, sticks and stones. Most of you will remember doing this with your class, or during Out and About! Now's the time to use and enhance your skills at home! Collect things that are laying around, but ask before picking flowers! They look better, and will last longer, growing in the soil!
If you can, take a photo of your piece of art.
Wednesday 25th March
REMEMBER looking at nature is wonderful, free and ever changing - no need to be bored if you learn how to appreciate our amazing living environment!
Start your outdoor session with TAKE FIVE - a quiet, sensory exploration and meditation on your own, in your special place in the garden. (see yesterday's post for ideas)
Today's task is to set up a Nature Diary or Journal to which you can add an observation every day or two and eventually create a wonderful collection of the changes in your own little part of the world. It really doesn't matter how small the area is, the important thing is that you look hard and take note of it!
Record the date, time and the weather conditions. Choose a branch or twig of a tree, bush or plant or flower, and carefully draw it in as much detail as possible. Make a note of any birds you see and watch them for a while to see what they are doing and where they go - they are beginning to pair up ready for nest building! Some of the birds are doing funny dances to attract each other! Can you see any minibeasts on the move? We spotted a bright yellow Brimstone butterfly in school on Tuesday and I saw a Peacock butterfly in my garden too! Beautiful!
Have fun Nature Watchers!
Daily Nature Diary!
TAKE FIVE! Try to do this EVERY day, whatever the weather! Take 5 minutes to concentrate on each of your 5 senses to explore and tune into the natural environment of your garden (that's 25 minutes altogether!)
Find somewhere outside where you can sit quietly and take 5 minutes (or longer!) to close your eyes and really listen to the natural sounds you can hear – what is the loudest/quietest sound; can you identify different bird song or insects sounds; is there a breeze rustling through trees? Can you identify 5 different sounds?
Now open your eyes and really notice the natural living things around you – what are the smallest/largest thing you can see from where you are sitting? How many different colours are there in your garden? Can you notice 5 different types of plants ? (remember trees are plants too!)
How about your sense of smell? Wander slowly round your garden. Smell the earth, the leaves, the bark or twigs of trees, any flowers and even the air (sometimes the air smalls different after rain, or in warm sunshine) Try crushing or rubbing leaves between your fingers to get a stronger scent. What do you like/dislike? Would you know what something is by its smell?
Often we miss out our sense of touch – can you describe the texture of different natural things in your garden? A smooth or rough stone/cold earth/rough bark on a tree/furry or prickly leaves? Be careful of any sharp thorns or stings though! Can you feel the sun on your face, or the air on your face?
Now – the last of your 5 senses, your sense of taste – time to savour a snack! How about a raw piece of fruit or vegetable? Chew slowly and really taste, rather than gulp your food down!
HAVE FUN!
Have a look on the National Trust's site at their 50 things to do. How many of these can you achieve at home, or on a safe walk out with your family?